Water, & Water Related, Products
& Services in Surprise, AZ
Pure Water Nutrition provides these health promoting products:
Ozone Bottle Rinsing Station
Water bottles of all sizes for all different purposes
24 Hour outside vending machine – 1 to 10 gallon bottles; silver coin, dollar and five dollar bills only
10lb & 20lb bags of purified ice
Water jugs versus individual plastic water bottles: 3 to 5 gallon jugs are more environmentally friendly compared to individual plastic water bottles. Having a water cooler with a water jug will eliminate empty or half empty individual water bottles all over your house. You won't have to worry about not being able to recycle those water bottles since our city does not have recycling pickups at your home. Overall it means less plastic and more convenient hydration for you and your family. It is more cost effective as well.
A case of Water (40bottles @16.9oz each is just a little over 5 gallons) $5.69+ depending on where you buy.
A 5 gallon jug cost $1.75 to fill at our water store of the Reverse Osmosis Water.
RODI water is processed through our 12-step filtration program that uses UV lights then goes through a 13th step which is where the deionization takes place, leaving the TDS* at zero. Deionization process works by removing positively or negatively charged ion molecules and replacing them with hydrogen and hydroxyl ions. This water can be used for cpap machines, humidifiers, car batteries, golf cart batteries, medical instrument sterilization, washing cars, and fish aquariums.
*Total Dissolved solids (TDS) is measured as a volume of water with the unit milligrams per liter, otherwise known as parts per million (ppm).
Pure Water Nutrition now offers 5 gallon and 55 gallon long term water storage containers / drums. These are specifically for emergency water storage. The containers are food-grade plastic containers that are blue, BPA Free and UV resistant. The 5 gallon containers are stackable, so they make for easy storage, and have a handle so they are easy to transport. The 55 Gallon Drum have bungs at the top that can be sealed tight in order to protect your water from contamination. A family of 4 can get about 27 days worth of water using the 55 gallon drum. We also offer a pump for purchase. The 55 Gallon drum is not very portable at 440 lbs filled, so finding a safe storage location for it where it will not have to be moved will be ideal. It will also be ideal to place the barrel up on something off of the cement (wooden pallet). You will want to store away from gasoline, kerosene, pesticides, or similar substances because vapors from these materials can penetrate plastic.
5 gallon water storage containers: This blue 5 gallon container is UN rates and FDA compliant. Durable HDPE: Sturdy, scratch resistant and good grade. 3.1 lbs Length 11 1/5", Width 10 1/5", Height 14 3/10"
55 Gallon Drum Tight Head, UN rated, fittings. Closed Head best for durable storage and transport. FDA and USDA compliant HDPE, lightweight, but packed with resistance in its ability to endure and repel chemicals, mold, weather, and impact. Molded-in blue color won't dent, rust, fade, or peel, non=removable cover supplied with a 2" NPS buttress fitting with a ¾" NPT reducer, BPA free and corrosion resistant.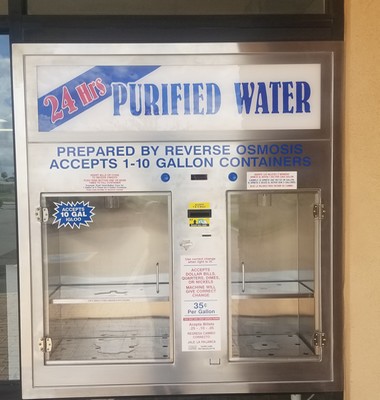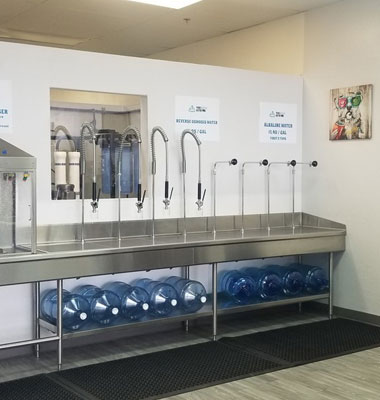 Water Dispensing Equipment